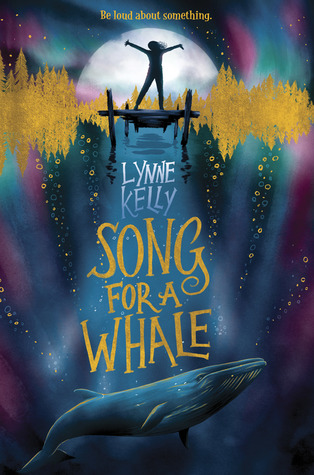 *I voluntarily read and reviewed an ARC of this book. All thoughts and opinions are my own.* 
Title: Song For A Whale
Author: Lynne Kelly
ISBN: 1524770248 (ISBN13: 9781524770242)
Genre: Contemporary
Recommended Age: Middle Grade
Series: No
Publisher: Delacorte Press
Publication Date: Feb., 5th 2019 (320 pages)
★★★★★
Twelve-year-old Iris has never let her deafness slow her down. A whiz at fixing electronics, she's always felt at home in the world of wires and vacuum tubes.
School, on the other hand, isn't quite as simple. Between her frustrating teacher Ms. Conn and her overly helpful classmate Nina, Iris can't seem to catch a break.
But during science class, Iris learns about Blue 55—the loneliest whale in the world. Saddened by the animal's inability to speak to other whales, Iris uses her tech skills to come up with a plan communicate with Blue 55.
One small problem: the whale is swimming off the coast of Alaska, nearly 3,000 miles from her Texas home. But, nothing stops Iris, and with her Deaf grandmother by her side, she sets out on a road trip to meet the whale and make sure he's finally heard.
---
Review:
I don't read much middle grade, but it is something I'm trying to change this year. Anyhow, I went into this novel thinking I wouldn't love it and I've have to change my expectations– keep an open -mind for the younger crowd. Wow, I was so wrong. 
This book is so beautifully written and before you know it, the characters will be pulling on your heartstrings. There I was sitting in the break room at work completely invested in this novel and realized I was having to hold back the tears. This book is an emotional ride because it is so easy to see why Iris cares about this whale so much.
Iris is an inspiration. She is such a cool character for us to follow along with. She is deaf, but she also repairs old timey radios in her spare time. She's an amazing mechanic and uses her skills to try finding a way to speak with Blue 55, the whale. Oh, and there are also a few chapters told from Blue 55's POV which really hit me in the feels. 
I don't know what else I can gush about. I smiled, I laughed, I almost cried a few times, and I now really want to learn sign language and more about whales. I totally recommend this to everyone who likes contemporary novels and has some interest in whales. I have already recommended it to a few people at the library, so hopefully someone will pick it up soon.