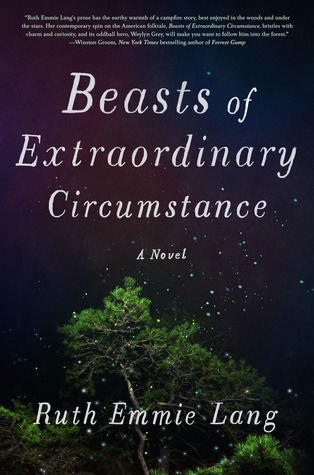 Strange things happen around Weylyn Grey, ever since the day he was born and in snowed in the middle of June.
Title: Beasts of Extraordinary Circumstance
Author: Ruth Emmie Lang
ISBN: 1250112044 (ISBN13: 9781250112040)
Genre: Magical Realism
Series: No
Publisher:  St. Martin's Press
First Publication Date: November 14th 2017 
★★✯

☆☆
*I received this book through Netgalley in exchange for an honest review*
Synopsis from Goodreads: 
Orphaned, raised by wolves, and the proud owner of a horned pig named Merlin, Weylyn Grey knew he wasn't like other people. But when he single-handedly stopped that tornado on a stormy Christmas day in Oklahoma, he realized just how different he actually was.
That tornado was the first of many strange events that seem to follow Weylyn from town to town, although he doesn't like to take credit. As amazing as these powers may appear, they tend to manifest themselves at inopportune times and places. From freak storms to trees that appear to grow over night, Weylyn's unique abilities are a curiosity at best and at worst, a danger to himself and the woman he loves. But Mary doesn't care. Since Weylyn saved her from an angry wolf on her eleventh birthday, she's known that a relationship with him isn't without its risks, but as anyone who's met Weylyn will tell you, once he wanders into your life, you'll wish he'd never leave.
Beasts of Extraordinary Circumstance tells the story of Weylyn Grey's life from the perspectives of the people who knew him, loved him, and even a few who thought he was just plain weird. Although he doesn't stay in any of their lives for long, he leaves each of them with a story to tell. Stories about a boy who lives with wolves, great storms that evaporate into thin air, fireflies that make phosphorescent honey, and a house filled with spider webs and the strange man who inhabits it.
There is one story, however, that Weylyn wishes he could change: his own. But first he has to muster enough courage to knock on Mary's front door.
---
Review: 
Alright, so I did try to read through this one, but I have so much to read in such a short amount a time that reading something I don't care about, felt like a waste of time. 
So, I think this book is well written. This is one of the reasons I almost got through it all. The writing flows and is easy to read through. There are jumps in time, but the year is clearly stated which helps keep everything together. 
I found the fact that we don't (at least up til I was) ever read through the main character's POV even though this is a story about him. Weird, but I feel this is done well. 
Unfortunately, none of the character's grabbed me. While most have their own quirks, the voices mostly sounded the same to me, except for Roarke who is a wild child. So, a switch from a junior high student to a teacher POV was hard to tell apart. 
So, what is it that had me putting down this book? I was bored. 
See, I think I'm just not a fan of magical realism??? If I needed to read this book for a challenge or with a group I could totally do it, but I just don't want to… For me, nothing is happening. I like the classic beginning, middle, and end to a story, but I don't think this one was going in that direction. Plus, magical realism tends to have a certain tone or atmosphere which I think is suppose to inspire awe in the reader or tries to create magic in the real world – I can't explain it, mostly because it doesn't work for me at all. It mostly has me rolling my eyes. 
BUT, now I know this is a thing for me and can stay away from magical realism unless pushed. 
Therefore, I do hope others will give this decent book a try if magical realism is a good factor for them.