It's Monday! What are you Reading? is a post to share what you have been, are and about to be reading over the week. It is hosted by Kathryn at Bookdate.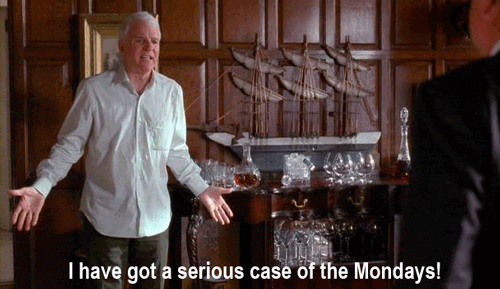 Last Week
I did not get as much reading as I wanted done last week…. partly because I was at the library volunteering every day, partly because of the office, and partly because I just couldn't get into The Parasol Protectorate series. Down to the last books and they just couldn't hold my attention *sigh*
So, what did I get through? 

I received two cookbooks through Netgalley, so I ran through those. Interesting stuff, although I definitely need to go grocery shopping before I can make any of it. 
And two fiction books as well! 4 books total… it pains my heart, truly, and did not diminish my growing stack of library books *cries*
This Week
To start, I need to mention what I read yesterday:
I have FINALLY finished this series!! It took me all day to finish reading this yesterday, I kid you not. I was already a fifth of the way through, yet it took me ALL DAY!
Enjoyable series, but wow it dragged for me. I'm glad I've read it. 
This week…. I'm going to be extremely busy again. At the library most days and some projects due for school… So, here is a small list– trying to be more realistic:
Mrs. Smith's Spy School for Girls is a Netgalley book I forgot to download! I just got it from the library and I'm ready to tackle it next. 
Since it is a middle grade book, the text is fairly large, so I should get through this quickly. 
Another Netgalley book!
Myths of Mish is the second in the Fairytale Galaxy Chronicles, the first of which I absolutely adored! I've been slow to read this one because I'm worried I won't like it as much, but it is about time I finally get to it.
Rose Petal Graves is a Netgalley book I forgot to download that has finally come in to the library. 
I felt bad about this one since I meant to read it MONTHS ago, but the library still hadn't bought it. I ended up recommending they buy it….. so hopefully this is good.

The Moth & The Flame and The Crown & The Arrow are novellas to The Wrath & The Dawn series. I'll be re-reading the first book soon (I'm next on the library waitlist) and then hopefully after that finishing the series, so I wanted to read these two in preparation! If I'm going to be finishing the series, then that has to include novellas too!
Looks like a week of mostly Netgalley books–which is for the best. I'm at 78%, but I still have about 30 books to be read, so this will help me cut that # down. 
---
What are you reading this week?