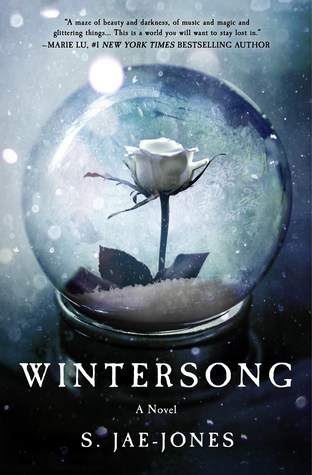 Wintersong #1 by S. Jae-Jones
Genres/Themes: Fantasy, Magic, Goblins, Romance, YA, retelling
★★

☆☆☆
*I received this book through Netgalley in exchange for an honest review*
Okay, this is going to be a mini-review because I finished this book a week and a half ago, but didn't write the review until now….. stupid, lovely, addicting K-dramas distracted me.
Synopsis from Goodreads:
All her life, nineteen-year-old Liesl has heard tales of the beautiful, mysterious Goblin King. He is the Lord of Mischief, the Ruler Underground, and the muse around which her music is composed. Yet, as Liesl helps shoulder the burden of running her family's inn, her dreams of composition and childish fancies about the Goblin King must be set aside in favor of more practical concerns.
But when her sister Käthe is taken by the goblins, Liesl journeys to their realm to rescue her sister and return her to the world above. The Goblin King agrees to let Käthe go—for a price. The life of a maiden must be given to the land, in accordance with the old laws. A life for a life, he says. Without sacrifice, nothing good can grow. Without death, there can be no rebirth. In exchange for her sister's freedom, Liesl offers her hand in marriage to the Goblin King. He accepts.
Down in the Underground, Liesl discovers that the Goblin King still inspires her—musically, physically, emotionally. Yet even as her talent blossoms, Liesl's life is slowly fading away, the price she paid for becoming the Goblin King's bride. As the two of them grow closer, they must learn just what it is they are each willing to sacrifice: her life, her music, or the end of the world. 
---
Anyhow, I wasn't a fan of this book. I was looking forward to a quick-witted main lead who could hold her own with the tricky Goblin King, but that definitely isn't what we got. I was expecting a love story that made sense and built up until we could feel the forbidden love between them– all I felt was desperation and surrender. I don't know why they love each other or how it happened. I don't know really what the point of the book was. There was no takeaway for me or something that I'll hold from it or even a line I can say I remember or feel when I think about the book.
The scenery was nice and some of the music stuff, although it went so far that I think I did not fully understand the book because I couldn't understand the music and I know music convenes feeling, so perhaps that is why I feel like I missed something from the book???
Perhaps I'm not being too fair to this book and my only excuse is that after a week, I can't remember if I liked anything about it
I only remember what I didn't like and how relieved I was when I finished it.
People who like and know music may enjoy this book more than I, so I'd be more likely to perhaps recommend it to them.