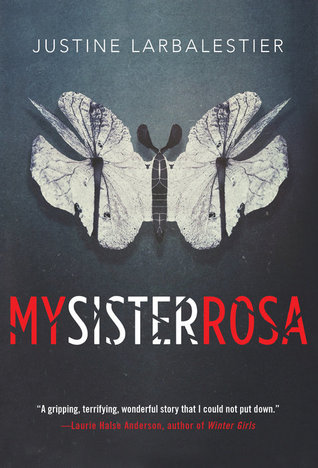 My Sister Rosa by Justine Larbalestier
Genres/Themes: YA, Mental Illness, Thriller, Contemporary
★★★★

☆
Wow… Wow, wow wow.
Synopsis from Goodreads:
What if the most terrifying person you know is your ten-year-old sister?
Seventeen-year-old Aussie Che Taylor loves his younger sister, Rosa. But he's also certain that she's a psychopath—clinically, threateningly, dangerously. Recently Rosa has been making trouble, hurting things. Che is the only one who knows; he's the only one his sister trusts. Rosa is smart, talented, pretty, and very good at hiding what she is and the manipulation she's capable of.
Their parents, whose business takes the family from place to place, brush off the warning signs as Rosa's "acting out." Now that they have moved again—from Bangkok to New York City—their new hometown provides far too many opportunities for Rosa to play her increasingly complex and disturbing games. Che's always been Rosa's rock, protecting her from the world. Now, the world might need protection from her.
---
This was gripping. I don't know what about it had me gripped considering there was no sword fighting, no magic, no… drama, really, but perhaps it was the suspense. What is Rosa going to do?
So, I mean, I was totally into this wondering what the hell this little girl was going to do and how she was going to get away with it. Honestly, it was a bit creepy– but it makes you think?
Good v. Bad
Is lying bad?
What would you get away with if you wouldn't get caught?
Che is a fabulous character and I thought he was really well written. He actually seemed like a teenage boy– a mature one, yes, but still like a regular Joe. He is relatable, if you will.
Usually, with this kind of book I would be bored… I'm trying to work out why I liked it so much– why I wasn't bored, when it seemed like nothing was happening. At the same time, it was such normal life that it makes the story even more eerie.
I'm really not sure what else to say, but if you like Dexter you might like this and perhaps Law & Order 🙂
If you've read this book, you should totally talk to me about it, because I don't even know what to think about it.