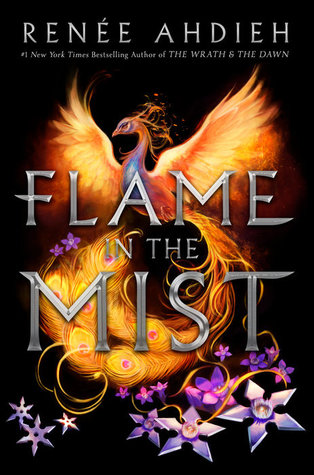 Flame in the Mist (#1) by Renee Adhieh
Genres/Themes: Historical – Feudal Japan, Young Adult, Fantasy, Romance, Gender bender
★★★★★
THIS WAS AWESOME!!
Synopsis from Goodreads: 
The only daughter of a prominent samurai, Mariko has always known she'd been raised for one purpose and one purpose only: to marry. Never mind her cunning, which rivals that of her twin brother, Kenshin, or her skills as an accomplished alchemist. Since Mariko was not born a boy, her fate was sealed the moment she drew her first breath.
So, at just seventeen years old, Mariko is sent to the imperial palace to meet her betrothed, a man she did not choose, for the very first time. But the journey is cut short when Mariko's convoy is viciously attacked by the Black Clan, a dangerous group of bandits who've been hired to kill Mariko before she reaches the palace.
The lone survivor, Mariko narrowly escapes to the woods, where she plots her revenge. Dressed as a peasant boy, she sets out to infiltrate the Black Clan and hunt down those responsible for the target on her back. Once she's within their ranks, though, Mariko finds for the first time she's appreciated for her intellect and abilities. She even finds herself falling in love—a love that will force her to question everything she's ever known about her family, her purpose, and her deepest desires.
---
Am I a bit biased because of this book being set in feudal Japan? Probably, but considering how well the author wrote it, I think it shouldn't matter. I am in such love with this book.
What to say about how much I loved this book…
Let's start with Mariko who seriously holds her own. I loved reading from her perspective and seeing how she stumbled with what she knew and 'what she thought she knew' and also trying to be a boy. I loved how she was stubborn and intelligent– quick to learn and invent things. She is so cool. I didn't like how she kept blindly blaming her attempted murder on a group without evidence or even trying to find more evidence…. I get she was waiting, but it was getting frustrating.
The Black Clan was intriguing. At first I thought of them as an older group of thieves, but by the end of the book they seemed more like Peter Pan's Lost Boys (hahaha). Also Wolf? Honestly, so cool. I really do want to learn more about his power and how he received it. I do hope we also get more of the Black Clan and their leader.
On the topic of magic though, let me back up, I will say this is something I really wished the book delved into a little more. There are only two people in the book I truly know that have magic, but we don't know how magic works in this world or why they are the only ones with it. Also, the magic they use is very different. This was one of the only things I felt let down on, because I didn't understand it, but at the same time, that might be the point? I'm hoping we will know more in book #2.
Let me give a shout out to Kenshin real quick, who I really liked as a character, as well. I'm glad we got his POV occasionally, and I hope we see him redeem himself and become a better samurai.
I thought the plot was well written and, while it may seem slow looking back on it, this is a book so well written, so full of suspense, that I read every single paragraph wanting to absorb more, while also trying to read faster as I was dying to know what would happen next.
I would recommend this to people who don't mind a little fantasy in a historically placed fiction, to people who enjoy Japan culture, and (yes) people who like Mulan and Tamora Pierce– not just because of the gender-bending, but because of how the story is written around a girl wanting to be more than she is allowed to be.