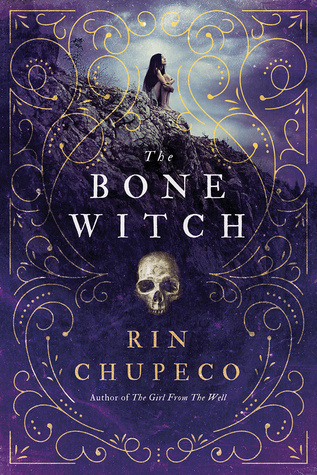 The Bone Witch #1 by Rin Chupeco
Genres/Themes: Magic, YA, Romance (so, so, so slight), Witches, Necromancy
★★✯☆☆
*I received this book through Netgalley in exchange for an honest review*
Synopsis from Goodreads: 
The beast raged; it punctured the air with its spite. But the girl was fiercer.
Tea is different from the other witches in her family. Her gift for necromancy makes her a bone witch, who are feared and ostracized in the kingdom. For theirs is a powerful, elemental magic that can reach beyond the boundaries of the living—and of the human.
Great power comes at a price, forcing Tea to leave her homeland to train under the guidance of an older, wiser bone witch. There, Tea puts all of her energy into becoming an asha, learning to control her elemental magic and those beasts who will submit by no other force. And Tea must be strong—stronger than she even believes possible. Because war is brewing in the eight kingdoms, war that will threaten the sovereignty of her homeland…and threaten the very survival of those she loves.
---
What did I think about this book… for starters, let me clear the air by saying (typing?) that this is not my kind of book. It is too descriptive and detail oriented for my tastes.
The world-building is absolutely amazing and their is a bit in the back which describes even more about countries, their rulers, and such. It truly is amazing…….but, being who I am all the building with little action made me bored.
OTHER POSITIVES:
I enjoyed how reminiscent the ashakas were of (at least what I know of) Geisha houses.
I thought some of the relationships were interesting, although I would have preferred more interaction between people, especially Fox and Tea.
The magic system was interesting as well as people's hearts (even if I don't completely understand it).
OTHER NEGATIVES:
Romance— nonexistent, but there… so like insta-love, but it won't be and honestly, I wasn't surprised at the ending.
I was confused by a lot of the book. "You have [insert thing with Fox] yet?" with surprise and then turn around and say "Oh, you can do it after you are made an asha" ?????? what? And some people get new hearts all the time, just by doing the spell, but other times a whole new heart needs to be made…. Pacing: Slow, but honestly I wasn't bothered by it too much, what really got me was the different narratives/ times switch which completely jolted me out of the story. Is it mysterious? Yes. Is it informative? Not really, could do with 5 of them, not every chapter. I would notice myself getting somewhat drawn in and then the time would switch and I would get pulled out again.
In the end, the concept is interesting and the world building is phenomenal. I do see why people would like this book. Will I read the sequel? It is probable, because I see action coming, but I probably won't at the same time because it might still be slow to me.
You should try this book is you like details and being lost in a different world as well as not needing action or fighting, just an interesting tale, to keep you going.