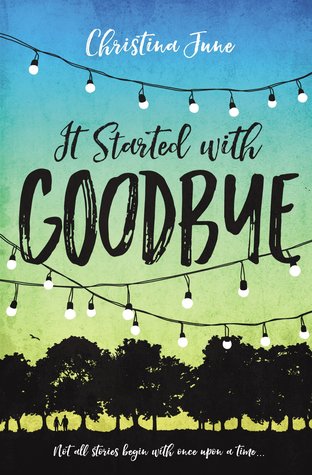 It Started With Goodbye by Christina June
Genres/Themes: Contemporary, YA, Slight Romance, Crime, Coming of Age
★★★★☆
*I received this book through Netgalley in exchange for an honest review*
Synopsis from Goodreads:
Sixteen-year-old Tatum Elsea is bracing for the worst summer of her life. After being falsely accused of a crime, she's stuck under stepmother-imposed house arrest and her BFF's gone ghost. Tatum fills her newfound free time with community service by day and working at her covert graphic design business at night (which includes trading emails with a cute cello-playing client).
When Tatum discovers she's not the only one in the house keeping secrets, she finds she has the chance to make amends with her family and friends. Equipped with a new perspective, and assisted by her feisty step-abuela-slash-fairy-godmother, Tatum is ready to start fresh and maybe even get her happy ending along the way.
---
This was an interesting read. I feel the first line really sparks that interest in the book and brings you in. There is a little cinderella theme, but I wouldn't call it a re-telling. I think it really brought up that we need to look at situations from multiple angles to understand how other people react or feel.
I definitely think, I wouldn't forgive the step-mom because she was very harsh and pretty much made her daughters feel they had to be #1, but they kinda explained how Tate may have misunderstood?? Definitely some tearjerker moments.
Another part I really liked was how the romance was not the main part of this story — it was growing into being a better person, building friendships, and getting a start on life.
BUT, there were boring parts or 'mediocre moments, I could have done without. The climax wasn't even that disastrous… I honestly didn't realize it was the climax until… well, the end? So it just seemed like things magically got better on their own perhaps because of how Tate's mind frame changed?
Anyhow, I did enjoy reading it and I read it quite quickly. I recommend this to people who like reading contemporary, but perhaps don't want to drown in romance.