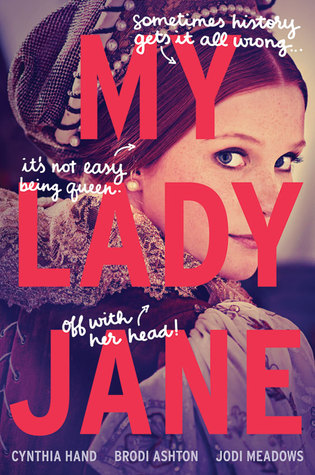 My Lady Jane by Cynthia Hand, Brodi Ashton, and Jodi Meadows
Genres/Themes: Humor, Historical, Young Adult,
Romance (although this isn't the main part!!!)
★★★★★
What a book!
Synopsis from Goodreads:
In My Lady Jane, coauthors Cynthia Hand, Brodi Ashton, and Jodi Meadows have created a one-of-a-kind fantasy in the tradition of The Princess Bride, featuring a reluctant king, an even more reluctant queen, a noble steed, and only a passing resemblance to actual history—because sometimes history needs a little help.
At sixteen, Lady Jane Grey is about to be married off to a stranger and caught up in a conspiracy to rob her cousin, King Edward, of his throne. But those trifling problems aren't for Jane to worry about. Jane is about to become the Queen of England.
---
Let me start out by saying that I listened to this as an audiobook, and given the nature of the book, I think it probably would be best read that way. The narrator is hilarious and does the voices and the right intonations, absolutely amazing. Also, there are parts where the narrator of the book interrupt to explain things about the history or the book, which always made me smile while listening to, but I don't know how I'd take if I was reading it.
This book had me laughing at every turn. I was so worried at parts because I thought I KNEW what was going to happen, but I didn't and it turned out well (release held breath there) and I loved the inclusion of… shape-shifters (sorry I don't know how to spell the word!).
The novel is very light, funny, and at times doesn't take itself very seriously, but there is still political unrest, betrayal, true love, a nation divided, and a first kiss (hehe). There is so much here it is absolutely an amazing book.
As for the humor, I want to mention that there are indeed.. hmmm shoutouts? Omg too early I can't remember the word… references! to other funny media (Monty Pyton and the Holy Grail, Princess Bride), so keep your eye out 😉
I recommend this book to people who love humor and just want to read something entertaining–and not really serious or life-altering.