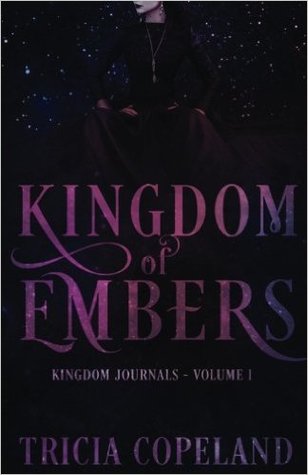 Genres/Themes: YA, Fantasy, Teenage drama, Vampires, Witches
★★★☆☆
*I received this book in a Goodreads Giveaway, but all thoughts and opinions are my own*
What the heck is this book? I am so torn about liking since, but I think I'll lean towards the no side, unfortunately.
Synopsis from Goodreads:
As a creature forbidden by both vampire and witch law, Alena traverses the country with her Vampire Council Chancellor mother in search of an unknown entity. Everything changes when Alena finds Hunter. Their bond may be the key to the answers Alena seeks. As she investigates the connection, an equally handsome and mysterious suitor appears. Will the truth about his intentions be uncovered before it's too late? Or will her Mother's kingdom be reduced to embers? Find out in Kingdom of Embers!
---
I totally loved the new look at doing vampires and witches. Eating raw or low-processed foods was so interesting, but then towards the end we see that blood is still a factor yet Alena didn't ask about it ever even thought it is a huge part of vampire folklore. We also weren't really told about the limitations of vampirism or explicitly told– which is nice because it helps us learn as we go… although this seemed to be the point of the cafe/bookstore even though that wasn't the reason she originally went there?
I loved the action towards the end, even if it felt rushed and not entirely explained… or I guess anti-climatic? Spoiler: I mean someone dies yet it isn't really given as much gravity as the horrible person who died earlier. THEN another person almost dies and I felt nothing because no one but the main character seemed to care/mind/be scared…. it was 'like, oh… whatever'[End spoiler.]
One of my biggest complaints was the relationships or way conversation went. Most conversations felt very stiff to me, or overly structured with little feeling. I never understood how she felt about Nick because I thought they were just friends until she started wondering who she liked Nick or Hunter? And Hunter?? How did they fall in love? The whole thing was so bland to me except she was always wanting to touch him. And Theron…. yes, this is more than a love triangle. Most of this girl's problems are because of boys. Side note: What kind of teachers don't say anything when they see/hear a student bullying another???
So, you might be wondering why 3 stars when I obviously am having troubles liking the book. Well, yes it is a slow slow build up to the end where we learn more, but I know many people who would probably enjoy this book and because of the ending, I'm assuming the second book will be better. Therefore, this is another one of those first book = setting up the story book.
I'd recommend this book to young teens who like light fantasy, but lean towards teen drama and contemporary.