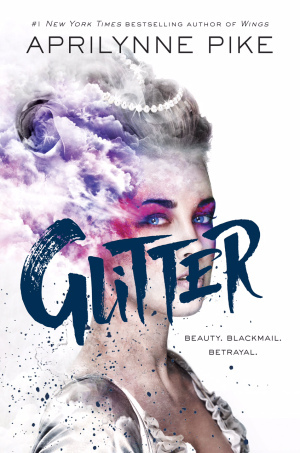 Glitter by Aprilynne Pike
Genres/Themes: Young Adult, AU, (slight) Sci-fi, Drugs, Slavery, Royalty
★★★☆☆
*I received this book through netgalley, but all opinions are my own*
Synopsis from Goodreads:
Outside the palace of Versailles, it's modern day. Inside, the people dress, eat, and act like it's the eighteenth century—with the added bonus of technology to make court life lavish, privileged, and frivolous. The palace has every indulgence, but for one pretty young thing, it's about to become a very beautiful prison.
When Danica witnesses an act of murder by the young king, her mother makes a cruel power play . . . blackmailing the king into making Dani his queen. When she turns eighteen, Dani will marry the most ruthless and dangerous man of the court. She has six months to escape her terrifying destiny. Six months to raise enough money to disappear into the real world beyond the palace gates.
Her ticket out? Glitter. A drug so powerful that a tiny pinch mixed into a pot of rouge or lip gloss can make the wearer hopelessly addicted. Addicted to a drug Dani can sell for more money than she ever dreamed.
But in Versailles, secrets are impossible to keep. And the most dangerous secret—falling for a drug dealer outside the palace walls—is one risk she has to take.
---
I'm on the fence with this one, which is why three stars. I enjoyed reading it, but I am also very indifferent towards it, this may be because there were a few things I could not get over and were confusing…. most of which would be spoilers…
Anyhow, I thought the setting was very unique and the court intrigue was interesting. I liked the idea of M.A.R.I.E and the bots which really made this quite sci-fi. Our main character is very smart and good with math, but unfortunately rarely gets to use it and is bested often– granted not in her area of expertise. The fact that people 'hack' into M.A.R.I.E was also super cool and I thought we would learn more about it, but no. They just do it and we accept that even if we don't know from where they are hacking into the system.
Another interesting aspect was the fact that the palace is really its own culture, so when Danica bumps into people from the real world it almost makes this story feel like a story WITHIN a story. It was almost jarring, but still fascinating.
I will say, one of the times I really disliked was when Saber said he liked the "desperate" version of her and not when she is bold. I was left like:
so done with this ship.
All in all, I am still interested in knowing how it ends, but I am pacing nor screaming frustration while waiting for the sequel. I'll read it when I get to it.