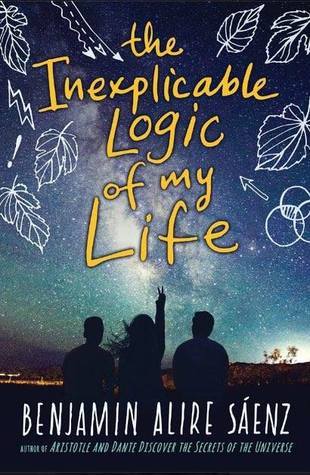 The Inexplicable Logic of my Life by Benjamin Alire Saenz
Genres/Themes: YA, Coming of age, Contemporary, LGBT+, Death/Grieving, Cancer, Abuse, Drug use
★★★★★
*I received this book through netgalley, but all opinions are my own*
Wow… I really do not know what to say. This book is beautiful. It is written in such a way that I feel like I have never read anything so precious before.
Synopsis from Goodreads: 
The first day of senior year:
Everything is about to change. Until this moment, Sal has always been certain of his place with his adoptive gay father and their loving Mexican-American family. But now his own history unexpectedly haunts him, and life-altering events force him and his best friend, Samantha, to confront issues of faith, loss, and grief.
Suddenly Sal is throwing punches, questioning everything, and discovering that he no longer knows who he really is—but if Sal's not who he thought he was, who is he?
---
This book talks about REAL life, it deals with death, grief, abuse, and identity with real consequences, even if the characters act older than they really are. So, while this is real, it is also somewhat utopian… a little. There are bad things that happen, but the main characters are so mature or above the world.
Even so, it is interesting.
Honestly, it really is hard to review this, because I don't want to break it down to its parts. I want to bask in its beauty and the feelings it installs in me. I'll give a few good points before ending:
*Some diversity — although the main character has white skin, he has grown up in a Mexican-American culture. He has non-white friends and family.
—-Also, has hetero and homosexual relationships.
*Deals with real-life issues in a good way.
*Healthy relationships are shown in a good light and unhealthy relationships are proven to be bad. This is done very well.
I also loved how the chapter lengths varied, sometimes only being a paragraph long.
I would recommend this book to literally everyone. There is so much to learn and so deep I cannot appreciate it as well as someone else could.