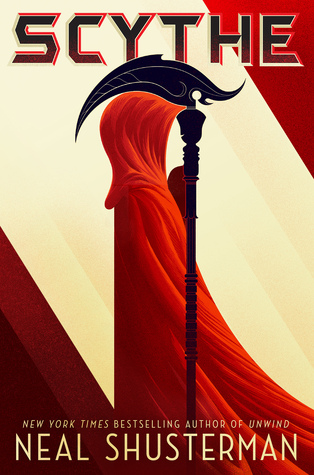 Scythe (Arc of the Scythe #1) by Neal Shusterman
Genres/Themes: Sci-fi, YA, Dystopia/Utopia, Futuristic, Mass killing, Neglectful parents
AMAZING!
★★★★★
Summary from Goodreads:
Thou shalt kill.
A world with no hunger, no disease, no war, no misery. Humanity has conquered all those things, and has even conquered death. Now scythes are the only ones who can end life—and they are commanded to do so, in order to keep the size of the population under control.
Citra and Rowan are chosen to apprentice to a scythe—a role that neither wants. These teens must master the "art" of taking life, knowing that the consequence of failure could mean losing their own.
---
Absolutely loved this book and I can't wait until the sequel comes out. Also, already in the works to be a movie?!?! I totally see this being epic as long as they don't cut out all the kill– excuse me, gleaning (but in some cases that was straight up killing).
Fabulous book that really hit all my boxes, but I just wasn't drawn in enough to make this a favorite– possibly because it was already overdue from the library so I read it within 24 hours between school work and volunteering.
I do believe this book makes you think if you are willing to look at it that way, which was fun. Also, this is the first book in the series YET IT FELT COMPLETE! It doesn't feel like the first book in the series which has been happening so frequently.
Recommend to people who like mild sci-fi, can handle death/killing, and like a little mystery with impending doom thrown in.
Definitely would recommend this to people!!