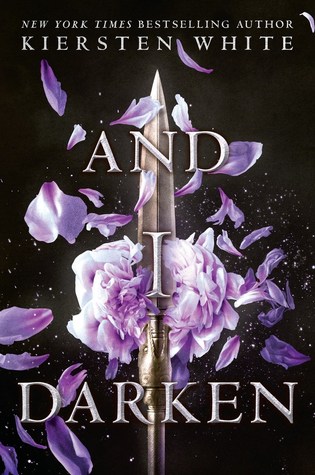 And I Darken (The Conqueror's Saga #1) by Kiersten White
Genres/Themes: Historical Fiction (Ottoman Empire/Vlad the Impaler), Romance, YA, LGBT, War,
★★★☆☆
Wow, what to say…
On one hand I really liked this book, but on the other…I could care less.
Summary from Goodreads:
No one expects a princess to be brutal. And Lada Dragwlya likes it that way. Ever since she and her gentle younger brother, Radu, were wrenched from their homeland of Wallachia and abandoned by their father to be raised in the Ottoman courts, Lada has known that being ruthless is the key to survival. She and Radu are doomed to act as pawns in a vicious game, an unseen sword hovering over their every move. For the lineage that makes them special also makes them targets.
Lada despises the Ottomans and bides her time, planning her vengeance for the day when she can return to Wallachia and claim her birthright. Radu longs only for a place where he feels safe. And when they meet Mehmed, the defiant and lonely son of the sultan, Radu feels that he's made a true friend—and Lada wonders if she's finally found someone worthy of her passion.
But Mehmed is heir to the very empire that Lada has sworn to fight against—and that Radu now considers home. Together, Lada, Radu, and Mehmed form a toxic triangle that strains the bonds of love and loyalty to the breaking point.
I have read that many people disliked the pacing of this book, but that ended up not being a problem for me. I found the background on their childhood to be interesting and definitely gave insight to who they grew up to be — something the author talked about in her notes.
I also really liked how the characters are themselves. Everyone is different, interesting, and strong in their own way. Showing how people can be strong by being a charismatic leader/royalty (mehmad), physical strong (Lada), intellectually strong and manipulative (Radu), manipulative using their body/sexuality (Huma), and more I'm kinda forgetting. But, just WOW. The different ways of using strength and power is so amazing to see in one novel! How Lada is told by the wives and mistresses how they are not weak just because they cannot fight, they are strong and powerful in other ways — It really hit me. I honestly loved those parts.
I loved reading about a book from a place we usually do not read from. Rome is the enemy here. The Ottoman Empire is the focus and that is something we usually don't see. Even bringing up religion and highlighting the differences (both good and bad) and the characters who identified with their religion was so awesome. It showed so much having all this diversity.
Honestly, there is so much to love about this book, even the story. I felt so moved by it…. but when I put it down to sleep (80% in) it took me over a week to pick it up again and not just because I was busy.
This book… there is no climax!!! I kept waiting and waiting and my emotions was taught because all of the drama and things were happening and intense and then…………………………….. there was nothing there to relieve the tension!! So, when I thought about finishing the book, I wondered 'is this tension or am I just feeling something that isn't there? is it just boring?'
While I did not find the book boring, I will say when I finished it that feeling of tension was still so high that I really want to read the sequel BUT I DON'T!
Things happened– A LOT OF THINGS but, gosh…
So, I'm torn.
I'm looking forward to reading more reviews and listening to the podcast about this book and I might even pick up the sequel when it comes out.
I'd recommend this to people who like historical fiction, strong female leads, and diverse characters.