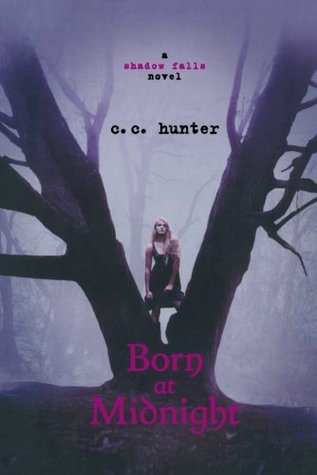 Born at Midnight (Shadow Falls #1) by C.C. Hunter
Genres/Themes: Supernatural, Summer Camp, YA, Romance, Mystery
★★☆☆☆
Summary from Goodreads:
One night Kylie Galen finds herself at the wrong party, with the wrong people, and it changes her life forever. Her mother ships her off to Shadow Falls—a camp for troubled teens, and within hours of arriving, it becomes painfully clear that her fellow campers aren't just "troubled." Here at Shadow Falls, vampires, werewolves, shapeshifters, witches and fairies train side by side—learning to harness their powers, control their magic and live in the normal world.
Kylie's never felt normal, but surely she doesn't belong here with a bunch of paranormal freaks either. Or does she? They insist Kylie is one of them, and that she was brought here for a reason. As if life wasn't complicated enough, enter Derek and Lucas. Derek's a half-fae who's determined to be her boyfriend, and Lucas is a smokin' hot werewolf with whom Kylie shares a secret past. Both Derek and Lucas couldn't be more different, but they both have a powerful hold on her heart.
Even though Kylie feels deeply uncertain about everything, one thing is becoming painfully clear—Shadow Falls is exactly where she belongs…
---
I don't even have words…. I really want to know what magical being they are gonna make her, but I don't have the heart to continue.
There is so much wrong with this book.
1. That only good girls don't have sex and if you do it is bad — thing going on
2. Falling in love over just because of looks or 'he saved me'
3. A love triangle that made absolutely no sense
4. No real plot??? like I had no idea where this story was going or how it would end until the last 45 minutes of the audiobook!! So, the mysterious mystery was announced and then solved.
5. Almost no questions from the book were answered or hinted that they would be answered.
I could probably go on…. #5 I suppose isn't a big deal, I'm just annoyed.
What I have to keep in mind, and what kept me going is that this is a young adult book for young adults and yeah some people fall in love by looks alone. Divorce and dyslexia were brought up, which is great, but I thought more could have been done with it.
So all in all, I'm not happy with this book, but maybe I'd recommend it to teens who like reading drama filled books like Gossip Girl, etc.