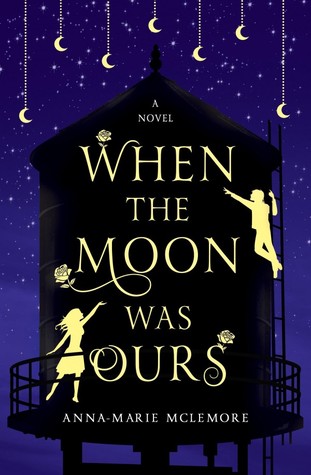 When the Moon was Ours by Anna-Marie Mclemore
Genres/Themes: LgbTqa+, Young Adult, Magical Realism, Coming of Age
★★★★☆
I received this book through netgalley. The following review is my own thoughts and opinions.
Summary from Goodreads: 
To everyone who knows them, best friends Miel and Sam are as strange as they are inseparable. Roses grow out of Miel's wrist, and rumors say that she spilled out of a water tower when she was five. Sam is known for the moons he paints and hangs in the trees, and for how little anyone knows about his life before he and his mother moved to town. But as odd as everyone considers Miel and Sam, even they stay away from the Bonner girls, four beautiful sisters rumored to be witches.
Now they want the roses that grow from Miel's skin, convinced that their scent can make anyone fall in love. And they're willing to use every secret Miel has fought to protect to make sure she gives them up.
---
I requested this book some time ago and was quite interested in the story, yet I have had so many books to read and many other distractions that I forgot I had it. I only remembered when I saw the Teen Librarian at my public library reading it. I decided to move it ahead of other books in line so I could read what she was reading and also branch out from all the fantasy I've been reading lately.
I'm so happy I read this book. Was it my style? Definitely not. The writing is very flowery and beautiful, something I'm sure many people will love– and honestly it was an interesting change from what I'm used it.
I'm also not great with symbolism, but I think more qualified people will be able to explain the roses growing from Miel's wrist and what they mean.
-In truth I have to say I don't quite understand the plot too much– or at least the feelings behind it? I get the basics, but the Bonner sisters never actual say during the actions why they want Miel's flowers. The reasoning is implied or said aloud by Miel yet Peyton actually says 'no that is not the reason we are doing this' which got REALLY confusing.
But, this book was very pretty with its words and imagery. I felt swept away at times into this small town full of weird occurrences. Truly, a delight to read.
I also thought that the way the author wrote about transgenders, teens trying to understand themselves or who they are, as well as understanding the actions of others. There really is a lot here– even if I know I'm not understanding it all. Tears were soooo close to the brink of falling. This book is very emotional.
I do think this is a book that would be nice to talk about with other people to try and delve into meaning or try to understand what impact the book will leave behind.