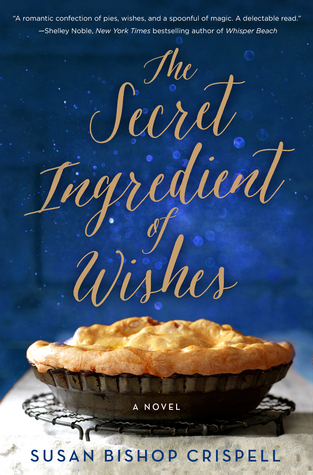 The Secret Ingredient of Wishes by Susan Bishop Crispell
Genres/Themes: Chick-lit, Slight Fantasy– Magical Realism, Adult, Slight Romance
I won this book in a Goodreads giveaway AS WELL as received it from netgalley! Whoops! Anyhow, I just wanted to say my review will reflect my true opinions about the book.
Rating: 3.5 *
Synopsis:
26-year-old Rachel Monroe has spent her whole life trying to keep a very unusual secret: she can make wishes come true. And sometimes the consequences are disastrous. So when Rachel accidentally grants an outlandish wish for the first time in years, she decides it's time to leave her hometown—and her past—behind for good.
Rachel isn't on the road long before she runs out of gas in a town that's not on her map: Nowhere, North Carolina—also known as the town of "Lost and Found." In Nowhere, Rachel is taken in by a spit-fire old woman, Catch, who possesses a strange gift of her own: she can bind secrets by baking them into pies. Rachel also meets Catch's neighbor, Ashe, a Southern gentleman with a complicated past, who makes her want to believe in happily-ever-after for the first time in her life.
As she settles into the small town, Rachel hopes her own secrets will stay hidden, but wishes start piling up everywhere Rachel goes. When the consequences threaten to ruin everything she's begun to build in Nowhere, Rachel must come to terms with who she is and what she can do, or risk losing the people she's starting to love—and her chance at happiness—all over again.
---
When I started the book I was immediately swept up in the story. The characters are lovely and the writing is cozy. There were a few moments I was confused– wondering why a character ended up in a room or something– but, this might have been fixed since I received an uncorrected ARC. This was a quite fun read.
I really liked the concept of the wishes and secrets but, I didn't think the story delved into it much. I thought could have been done to explain the powers to the reader yet, at the same time since the main character was so confused it made sense that the reader was in the dark too.
I also didn't like the ending– I'm sorry! It was nice, cute, and had a final tone but, I thought there were strings that still needed to be dealt with.