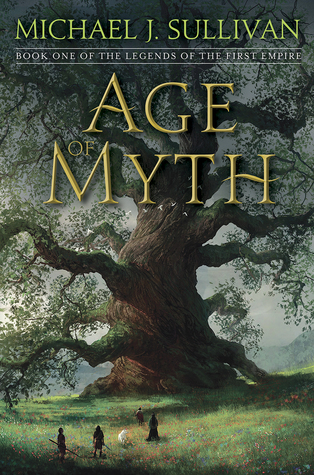 Age of Myth (Legends of the First Empire #1) by Michael J. Sullivan
Genres/Themes: (Epic/High) Fantasy, Fiction, Magic, Humans v. Fae,
Rating: 4.5 stars
*I received this book through netgalley in exchange for a honest review*
Okay, let me start off by saying I wasn't sure I was going to like this book and put it off. Many kind of 'high fantasy' books I've read recently turned out not to be my thing so, I dreaded starting this. I read the authors note at the beginning about how he writes his stories and already I was more intrigued to read the book. The way he writes just resonated with me. Then I read the first few lines, a smile appeared on my face, and I hoped I would enjoy the book.
And you know what? I did.
Synopsis:
Since time immemorial, humans have worshipped the gods they call Fhrey, truly a race apart: invincible in battle, masters of magic, and seemingly immortal. But when a god falls to a human blade, the balance of power between men and those they thought were gods changes forever. Now, only a few stand between humankind and annihilation: Raithe, reluctant to embrace his destiny as the God Killer, Suri, a young seer burdened by signs of impending doom, and Persephone, who must overcome personal tragedy to lead her people. The Age of Myth is over; the time of rebellion has begun.
---
I will say I was put off by the amount of characters and different people being the focus but, I feel it really brought another angle to this story. I would have a set image of the world and then someone else would come on the scene BAM! my perspective would alter because I received different (sometimes conflicting) information. I was able to look at this world and its people through different lenses and thought it was great.
The way things fit together in this book… I'm blown away. Knowing that little things from the beginning might become bigger issues in other books? I'm so excited! I can't wait to see it unfold. There were things I was surprised by in this novel. The ending?? I'm still in awe and excitement at what happened. I really REALLY didn't see it coming and the more I think about it the more I want to see how the future books deal with it.
As for the characters, we've got some great ones. I usually think adult fantasy books can be stuffy but, these characters really brought the story to life. We have a kick ass mystic who is 14 whose best friend is a wolf, a 30-something year old woman who just– wow my new hero, seriously, an ex-slave who can be hilarious and a bright spot to the story, along with the semi-stoic 'hero' who I honestly have soft spot for (Raithe is awesome and NOT just because he is a good fighter but, I love his heart), and a plethora of other cool characters because I haven't even touched the Fhery yet!!
For me, the book did have a slower start but truly, it was a steady build up with information in order to become accustomed with the world in the book.
This wasn't a book I felt I couldn't put down but, I will say I enjoyed my time reading it. I might not jump on the next book but, I'm definitely going to consider reading it AND other books by this author because it was written so well.
I recommend this book to people who like YA books (not a YA book but, does have the feel), fantasy, and can handle/enjoys a book told from 5+ character's POV.