First Lines Fridays is a weekly feature for book lovers hosted by Wandering Words. What if instead of judging a book by its cover, its author or its prestige, we judged it by its opening lines?
Pick a book off your shelf (it could be your current read or on your TBR) and open to the first page
Copy the first few lines, but don't give anything else about the book away just yet – you need to hook the reader first
Finally… reveal the book!
It is Friday and I've decided to give myself a break for the rest of the day from school wooohoo!  I have stacks of books to catch up on because of my reading slump and so the book I'll be sharing is the one I started last night. (By started I really need 2 pages in before I got called away to do other things). So, here are the lines!
Raithe's first impulse was to pray. Curse, cry, scream, pray– people did such things in their last minutes of life. But praying struck Raithe as absurd given that his problem was the angry god twenty feet away.
Are you interested?
Do you know which book it is?
Are you ready for the answer???
The book is…..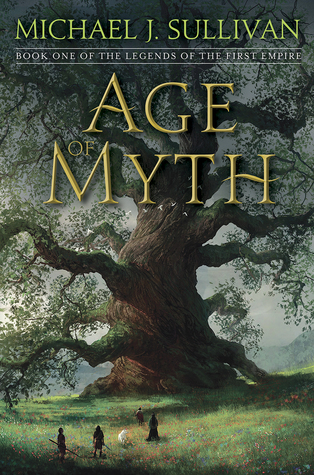 I received this one from Netgalley and it is the first book I'm late on reading. I feel so horrible! Anyhow the longer I put it off the more I thought I wouldn't like the book but, after I read those first lines… I was hooked. After the first five pages, I definitely am looking forward to reading it. Here is the synopsis from Goodreads in case you are interested:
Since time immemorial, humans have worshipped the gods they call Fhrey, truly a race apart: invincible in battle, masters of magic, and seemingly immortal. But when a god falls to a human blade, the balance of power between men and those they thought were gods changes forever. Now, only a few stand between humankind and annihilation: Raithe, reluctant to embrace his destiny as the God Killer, Suri, a young seer burdened by signs of impending doom, and Persephone, who must overcome personal tragedy to lead her people. The Age of Myth is over; the time of rebellion has begun.
---
Are you interested in reading this book now? Have you read it already and if you did,did you enjoy it?
Let me know!