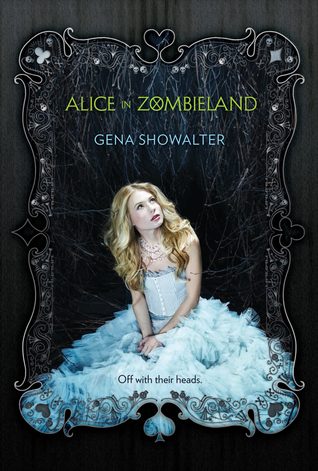 Alice in Zombieland (White Rabbit Chronicles #1) by Gena Showalter
Genres/Themes: Zombies, Young Adult, Fantasy, Romance
★★★★☆
I was pleasantly surprised with this book.
Synopsis from Goodreads:
If anyone had told Alice Bell that her entire life would change course between one heartbeat and the next, she would have laughed. From blissful to tragic, innocent to ruined? Please. But that's all it took. One heartbeat. A blink, a breath, a second, and everything she knew and loved was gone.
Her father was right. The monsters are real.
To avenge her family, Ali must learn to fight the undead. To survive, she must learn to trust the baddest of the bad boys, Cole Holland. But Cole has secrets of his own, and if Ali isn't careful, those secrets might just prove to be more dangerous than the zombies.
---
I'm not a huge zombie person so, I didn't know what I was getting myself into but, in this world zombies are corrupted spirits… I can totally dig it. It was an interesting concept and different.
I liked how things were written although at times I thought it sounded like a classic teen novel but, since it is a teen novel I feel I have to let it pass with that.
I'm curious as to where the story is going and since one of my goodreads groups is reading the whole series, for now I'll keep going!
See, there were a few things I didn't like. First off, the dreaded insta-love . I do have a suspicion that it won't be in the end??? More like I'm hoping hahaha. Like I said before, sometimes the writing was a little young for me. And lastly, it was just missing that umph for me. I do like how Alice has a great girl friend: Kat because positive female relationships are a MUST. I do think the romance… it was driving me up the wall. A lot of things were overly complicated… but, maybe I'm just a person who is more reasonable than others.
I recommend this to people who like zombies and people who like YA. If you really despise insta-love at this point I've got to say you probably shouldn't read it.