It's finally August!
This post is hosted by Books Are My Thing. So, I'll be sharing 1-3 books from the upcoming month that I'm super excited about being released. These are DEFINITELY on my TBR list although I may not be able to read them this month.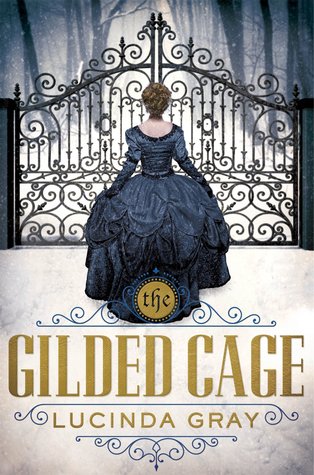 The Gilded Cage by Lucinda Gray
After growing up on a farm in Virginia, Walthingham Hall in England seems like another world to sixteen-year-old Katherine Randolph. Her new life, filled with the splendor of upper-class England in the 1820s, is shattered when her brother mysteriously drowns. Katherine is expected to observe the mourning customs and get on with her life, but she can't accept that her brother's death was an accident.
A bitter poacher prowls the estate, and strange visitors threaten the occupants of the house. There's a rumor, too, that a wild animal stalks the woods of Walthingham. Can Katherine retain her sanity long enough to find out the truth? Or will her brother's killer claim her life, too?
---
Honestly, I'm completely in love with this cover!! So yes, that is a good chunk of the reason I had to put this book on the list. Also, I don't read much Historical fiction yet, it still sounds interesting to me so, I had to add it to my list.
A Promise of Fire (Kingmaker Chronicles #1) by Amanda Bouchet
Catalia "Cat" Fisa is a powerful clairvoyant known as the Kingmaker. This smart-mouthed soothsayer has no interest in her powers and would much rather fly under the radar, far from the clutches of her homicidal mother. But when an ambitious warlord captures her, she may not have a choice…
Griffin is intent on bringing peace to his newly conquered realm in the magic-deprived south. When he discovers Cat is the Kingmaker, he abducts her. But Cat will do everything in her power to avoid her dangerous destiny and battle her captor at every turn. Although up for the battle, Griffin would prefer for Cat to help his people willingly, and he's ready to do whatever it takes to coax her…even if that means falling in love with her.
---
This main character sounds so cool!!! Hopefully she fights too. These tend to be some of my favorite reads although, I hope the romance isn't overbearing here…
Tell Me Something Real by Calla Devlin
Three sisters struggle with the bonds that hold their family together as they face a darkness settling over their lives in this masterfully written debut novel.
There are three beautiful blond Babcock sisters: gorgeous and foul-mouthed Adrienne, observant and shy Vanessa, and the youngest and best-loved, Marie. Their mother is ill with leukemia and the girls spend a lot of time with her at a Mexican clinic across the border from their San Diego home so she can receive alternative treatments.
Vanessa is the middle child, a talented pianist who is trying to hold her family together despite the painful loss that they all know is inevitable. As she and her sisters navigate first loves and college dreams, they are completely unaware that an illness far more insidious than cancer poisons their home. Their world is about to shatter under the weight of an incomprehensible betrayal…
---
I actually was approved for this one on Netgalley and I'm excited to read it. It sounds like it will be a sad read so, I'll have to prepare myself!!
Beauty and the Clockwork Beast by Nancy Campbell Allen
When Lucy Pickett arrives at Blackwell Manor to tend to her ailing cousin, Kate, she finds more than she bargained for. A restless ghost roams the hallways, werewolves have been reported in the area, and vampires lurk across the Scottish border. Lord Miles himself is clearly hiding a secret. He is brash and inhospitable, and does not take kindly to visitors—even one as smart and attractive as Miss Pickett. He is unsettled by the mysterious deaths of his new wife, Clara, and his sister, Marie. Working together, Miles and Lucy attempt to restore peace to Blackwell Manor. But can Lucy solve the mystery of Miles? Can she love the man—beast and all?
---
I've actually read this one already because of Netgalley! But, I wanted to share it with all of you because I really enjoyed reading it. Cliche and a wee bit predictable at times? yes but, it is still a great read with some surprises inside!
Are any of these books on your list? What other books are you excited to see come out this month? Let me know~