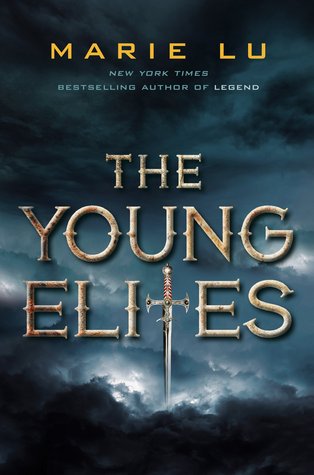 The Young Elites by Marie Lu
Genres/Themes: Young Adult, Fantasy, Magic, Dystopia,
★★★✯☆ 3.5 stars
I've heard so much praise and hype for this book I was expecting something adventurous and breathtaking. I feel slightly lied to.
Synopsis from Goodreads: 
Adelina Amouteru is a survivor of the blood fever. A decade ago, the deadly illness swept through her nation. Most of the infected perished, while many of the children who survived were left with strange markings. Adelina's black hair turned silver, her lashes went pale, and now she has only a jagged scar where her left eye once was. Her cruel father believes she is a malfetto, an abomination, ruining their family's good name and standing in the way of their fortune. But some of the fever's survivors are rumored to possess more than just scars—they are believed to have mysterious and powerful gifts, and though their identities remain secret, they have come to be called the Young Elites.
Teren Santoro works for the king. As Leader of the Inquisition Axis, it is his job to seek out the Young Elites, to destroy them before they destroy the nation. He believes the Young Elites to be dangerous and vengeful, but it's Teren who may possess the darkest secret of all.
Enzo Valenciano is a member of the Dagger Society. This secret sect of Young Elites seeks out others like them before the Inquisition Axis can. But when the Daggers find Adelina, they discover someone with powers like they've never seen.
Adelina wants to believe Enzo is on her side, and that Teren is the true enemy. But the lives of these three will collide in unexpected ways, as each fights a very different and personal battle. But of one thing they are all certain: Adelina has abilities that shouldn't belong in this world. A vengeful blackness in her heart. And a desire to destroy all who dare to cross her.
---
Did I enjoy the book? Yes, it is definitely worth the read.
Am I going to read the sequel? Truthfully, I haven't decided and at this point, it isn't high on my to-read list.
You might be curious as to why this is, perhaps like me you've also heard many things about this book. 'Darker and sexier' or something… dark?? OMG YES! Let me say this is something it has going on. Our 'heroine' doesn't follow the definition of the word. She is interesting and has those thought processes that made me step back and think.
Death is present everywhere and I swear peasants are dying at least every other chapter.
Sexier, on the other hand… the romance here is pretty dead.
Spoilersorry… but reading the end I kinda see why barely any effort was put into it. /spoiler
The love is pretty bad but, it shapes Adelina. It wasn't 'sexy' in the romance department or in the writing to bring me into the book.
Although, I must say the writing is good and I do enjoy the story.
Now, the side characters are all there in essence but, I just didn't get a lot out of them. I wanted more depth from them.
I really wanted more.
I see how Adelina is this anti-heroine and I'm curious as to how it will go. I believe the author can pull it off but, wow it seems like it will be a challenge. Possibily because the more I read (and now think about) Adelina the pity I feel towards her turns more into frustration and confusion.
Recommend? I'm torn. Yes and No. Read it but, I'm given a warning along with it. How about I just say, borrow it from the library before committing to a buying relationship.