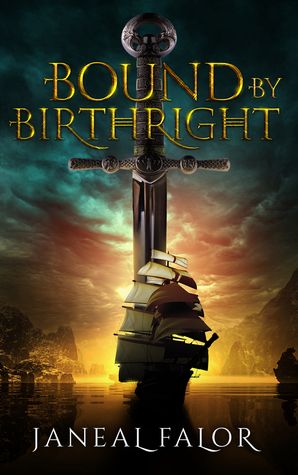 Bound by Birthright (Elven Princess #1) by Janeal Falor
Genres/Themes: Fantasy, Arranged Marriage, Middle Grade/ Young Adult?
★★☆☆☆
*I received this book through netgalley in exchange for a honest review*
On the border of liking it and disliking it when I finished reading but, coming back to review it, I've tipped over into not liking it.
Synopsis from Goodreads:
Elven princess Arabella is set to marry the human Prince Phillip but her countrymen do not hesitate to express their anger with her parents' attempt to improve relations with the humans. With death threats plaguing her, Arabella is forced into hiding.
When her sanctuary is usurped by pirates, Arabella goes on the run with humans who vow to help and keep her safe. She finds herself drawn to one of the humans, the dashing Robert, who steals her heart.
Arabella would like nothing more than time to get to know Robert better, but with pirates attacking and her wedding date approaching, time is one thing she doesn't have. Arabella's on a flight for her life and must reconcile with the truth—she can never be with the one she wants.
---
First off, the writing didn't flow well. I found myself distant from the story and couldn't help but look at the words. Conversations felt awkward at times. Personalities were hard to distinguish. There were also weird spelling mistakes…
The sequence of events was a bit dramatic at times and at others just not making sense. Now, an assassin comes for this princess… does he come at night? No. Does he comes when she is alone? No. He comes when she is practicing her sword in a fight against her teach, surrounded by guards. Now, I'd say the guy obviously didn't try hard. I don't see why there was such a great fuss for getting her out of the castle and into hiding. Plus, the good with a sword thing? Brought up again when she needs to make a point but, her self protection shown is very… limited.
I felt no emotional connection to the 'bad guys' (one of which was so ridiculous I cringed.) so, I wasn't sad to see them come or go.
I did like some of the good characters.
Everyone still seemed very… flat to me. I needed more life and more detail given. The story went by very fast.
Twist I didn't see? Yeah but, mainly because things were pushing one way and then turns another way which was barely talked about.
I really wanted to like this book. I tried.
I will say it was easy and fast to read. And that cover? Absolutely stunning.
There is just too much that didn't make sense to me or was too stunted.
Recommend? No.