A Court of Thorns and Roses
A Court of Mist and Fury
By Sarah J.Maas
Genres/Themes: Fae, Fantasy, Fairy Tale Retelling (kinda), Romance, Adventure,
New Adult
★★★★★ -For both!!
So, I read ACOTAR and couldn't stop to write a review before I started ACOMAF so, I thought I'd combine them. This will emphasis ACOMAF more though since that is what I just finished reading.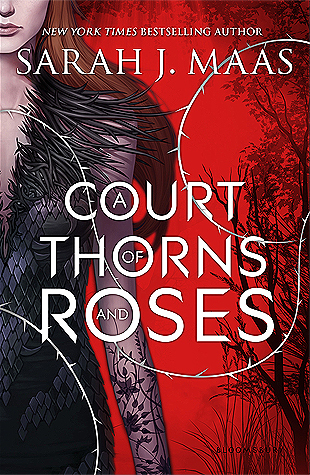 Synopsis from Goodreads:
When nineteen-year-old huntress Feyre kills a wolf in the woods, a beast-like creature arrives to demand retribution for it. Dragged to a treacherous magical land she only knows about from legends, Feyre discovers that her captor is not an animal, but Tamlin—one of the lethal, immortal faeries who once ruled their world.
As she dwells on his estate, her feelings for Tamlin transform from icy hostility into a fiery passion that burns through every lie and warning she's been told about the beautiful, dangerous world of the Fae. But an ancient, wicked shadow grows over the faerie lands, and Feyre must find a way to stop it… or doom Tamlin—and his world—forever.
Okay, Okay WOW.
One, I love how it wasn't inst-love. I will say the romance didn't totally win me over but, Tamlin doesn't seem too bad. Personally, I prefer Lucien~~
Also, she had some serious faults, ones she almost died because of. She wasn't the perfect person and didn't know all the answers but, she what she did and tried her best.
The ending… they way it ended it almost could have been a stand alone. I wasn't feeling a total need to read the next book to figure out what happened next. Why I felt compelled was because of Rhysland and wanting to know what the author was planning to continue the story. Oh. My. Lord. YES!
Now, I really want to talk about the next book so, I'm going to end my review here.
Just saying this is one book I will probably want to buy!

Brief Info:
So, life isn't paradise as one of the High Fae. Sure, Feyre is engaged to Tamlin but, the horrors from only months previous have yet to leave her. Slowly, she is losing herself without even realizing it.
Surprising to Feyre, Rhysland has yet to call on his bargain with her, not that she will question it.
Something doesn't feel right. Is this life Tamlin is setting up for her really the one she wants? Is there something more?
With complex Fae politics, bargains that are hard to break, and unrest within the new peace, Feyre will have to once again make decisions which will change not only her future but, also the lives of the people she loves.
---
A YEAR?! UGGHHHHHH I knew I should have waited to read these books until they were done!!
This book is so friggin good.
The romance is perfect. SPOILER: Okay, we finally get more into the 'mate' thing and she leaves Tamlin. OMG YES! Personally, I didn't really like them together… nothing there. And to see an author do this… it is a realistic thing where people don't always end up with their 1st or 2nd love. LOVE!!
There are a lot of themes brought up in this book which I thought were done very well. For instance, Feyre's PTSD. I mean, WOW. Also, domestic abuse which I can't really go into unless I give more away.
But, WOW.
I love all the characters (although I missed Lucien… I needed more of him).
The story was more involving than the last book. An unknown curse vs. destruction of the world? Oh yeah, very different. Thought it was much deeper.
So, definitely a recommended read and one I need to buy.
Too hyped??? Nah, let the hype continue!!
Now, excuse me as I go try to drown my need to read the last book under the next mass of books I read. This book is definitely making it hard for me to pick up my next netgalley read…