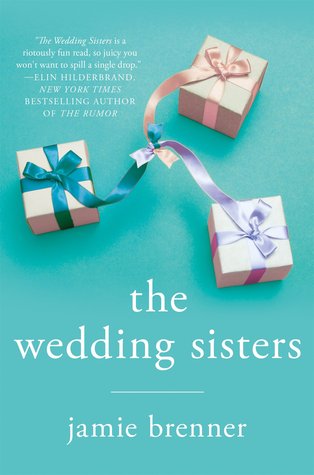 The Wedding Sisters by Jamie Brenner
Genres/Themes: Wedding, Romance, Chick Lit, Family, Fiction
*I received this book through netgalley in exchange for an honest review*
★★★✯☆3.5 stars –I can't decide if I really liked this or if I thought it was ridiculous.
Since I'm engaged, I've been more into reading books dealing with weddings and I finally got to read one!
I was expecting a quirky, cute, and fun story. Three sisters getting married at once? Come on. What I didn't expect was all the drama, the lying, and secrets. This story was super dramatic, maybe too much so.
Synopsis:
Meryl's oldest daughter of three, Meg, is engaged! It is an exciting time. The stress is starting to set in though as she battles Meg's parent-in-laws for control of the wedding. Things change drastically for Meryl though as her two other daughters get engaged as well. All three are engaged to high profiled men which comes with the media tailed behind them. Things are starting to spiral out of control and Meryl ends up convincing the girls to a triple wedding.
With engagement & engagement planning doesn't not come paradise. There are obstacles left and right for everyone. The big day is coming and decisions need to be made.
The family will come to realize what it means to be married or even in love and that nothing in life comes easy.
---
I liked this book yet, disliked it at the same time. There was just too much going on that I didn't like or couldn't understand. There actually wasn't one person in the story I really liked. Meryl, the mother, was the closest to being liked and sometimes Jo. Jo just… well really the whole book was frustrating.
That is what drama does to me.
So much drama and you begin to wonder why are these women getting married to these men? I don't want to give anything away but… seriously?
In the weeks leading up to the nuptials, secrets are revealed, passions ignite, and surprising revelations show Meryl and her daughters the true meaning of love, marriage and family. Jamie Brenner's The Wedding Sisters invites readers to the most unpredictable wedding of the year.
(taken from the synopsis on Goodreads)
True meaning of love and marriage and family?? I probably missed it… unless it is never give up on love and be true to yourself.
I feel like all I'm doing is bashing this book! I did enjoy it though. The drama and these situations are like those in a reality TV show… this is the same way I act when I watch those. It is interesting. It is captivating and you can't look away even though you know you should.
This is formatted and presented like a serious literary fiction but, if you read it like you would watch a reality TV show… it is good. That guilty pleasure you can't give up.
I had to know how it would all work out…
>Do I think I've wasted my time? Nah, it was a good read.
>Are there issues with the book? A few but, I received an ARC so, I don't want to bring them up…
>Did I like the characters? In a love them because you can't believe them (aka train wreck) way, yeah.
>Would I recommend this book to others? Maybe
Don't expect a sweet read. This is a toned down reality TV show book but, the characters and author try to fight it off.